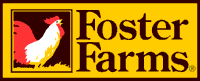 The West's Largest Poultry Company
Foster Farms is the largest poultry company in the Western United States, with annual sales in excess of $1 billion. A fully integrated enterprise, the company owns and operates hatcheries, grow-out ranches, feed mills, processing plants and delivery systems.
From fresh chicken and turkey to deli luncheon meats, prepared entrees and corn dogs, Foster Farms' 750 different items meet a wide range of preferences in the retail and foodservice markets. With a long history of delivering fresh, locally grown poultry products, Foster Farms has long been thought of as everyone's "hometown" chicken.
Family owned since its founding in 1939, Foster Farms today has over 7,000 employees. President and CEO Paul Carter oversees operations in California, Oregon, Washington and Alabama, and a marketplace that stretches across the U.S. and internationally.
Aggressively expanding our presence -- geographically and with new products and services -- Foster Farms is always looking for talented individuals to grow with us.