There's nothing like barbecuing to bring family and friends together. But usually one person is left to man the grill while others socialize. To put a creative twist on your next summer barbecue, try involving the whole gang in the cooking with a little interactive grilling. This summer throw a chicken pizza ... on the barbie. Have each person (older kids included) put their imaginations to work to create their own, customized meal with mix-and-match ingredients of their choice. It's more fun, less clean up and allows you to spend quality time with family and friends. Here are two interactive grilling recipes that the whole family is sure to love.


Foster Farms Grilled Chicken Pizzas

Recipes developed for Foster Farms by entertaining expert, Deborah Fabricant.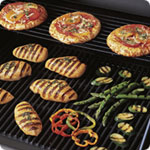 Begin with Foster Farms chicken breasts, brushed with olive oil, salt and pepper and pre-grilled until just cooked through. Slice or chop and set aside. For the pizza, use any fresh raw pizza dough, frozen pizza dough or ready-made pizza shells. Dough should be stretched into 8" rounds.
Mix and match the ingredients below with grilled chicken to create your own individual pizza. Suggestions: olive oil, artichoke hearts, garlic and mozzarella. Or, basil, garlic, tomatoes, tomato sauce, mozzarella and Parmesan.
SEASONINGS:
(choose one or more)
olive oil
fresh herbs
basil
oregano
rosemary
cilantro
parsley
red pepper flakes
salt and pepper
VEGETABLES:
(choose 2-3)
tomatoes, diced
onions, sliced
green onions, chopped
mushrooms, sliced
artichoke hearts
asparagus, sliced
sun-dried tomatoes, chopped
peppers, sauté or grill
garlic, minced
zucchini, sauté or grill
SAUCES:
(choose one)
red tomato
pesto
olive oil

CHEESES:
mozzarella
Parmesan
feta
goat cheese
Adjust grill heat so that all heat is on the perimeter of the grill, keeping the center of the grill the coolest. Do not put pizzas over direct heat.
Grill top of the dough for 3 minutes. Slide off the grill, turn over (grill marks should be facing up) and cover with your choice of toppings, seasonings and cheese.
Return to coolest part of grill, close the lid and cook for about 8 -10 minutes or until bottom has grill marks and is crisp but not burned. Watch closely!

Foster Farms Grilled Chicken Pouches
Begin with Foster Farms chicken breasts and heavy-duty foil or parchment paper cut into 12"-15" squares (one per person and one per packet).
Mix and match your choice of vegetables and seasonings. For example: sweet onions, peppers, oregano and olive oil. Or, mushrooms, onions and barbecue sauce.
VEGETABLES:
Tomatoes, diced
Green onions, chopped
Spinach, chopped
Red, yellow or green peppers, sliced
chives
Zucchini, chopped
Asparagus, sliced
Fresh corn, removed from cob
Sweet onions, sliced
Broccoli, cut into florets
Fresh carrots, shredded
Mushrooms
HERBS AND SEASONINGS:
basil
oregano
rosemary
cilantro
Fresh garlic, minced
olives
red pepper flakes
thyme

SAUCES:
olive oil
butter
barbecue sauce
teriyaki
Worcestershire
Cut foil or parchment paper into 12"-15" squares and place on a flat surface.
Place a Foster Farms chicken breast on one side of the foil or parchment paper and top with vegetables, herbs & seasoning of your choice. Drizzle with 1-2 tablespoons of sauce of your choice. Dust with salt and pepper.
Fold over and tightly seal the edges, making a neat "package".
Place packets on a medium hot grill and cook with lid closed for 20 minutes. Remove place on plate, cut open and enjoy.

Timesaving Tips
You can also make things easier on yourself by using some simple timesaving tips.
Purchase already-marinated chicken or turkey to eliminate the hassle of seasoning yourself.
Prep ingredients in advance - grate cheese, chop vegetables and herbs, put olive oil or tomato sauce in individual bowls, cut parchment paper or foil into squares.
Put all ingredients in individual serving bowls and display all of the items on a table. This way people can mix and match the toppings or vegetables of their choice.