STICKERS
Set of two sheets of stickers. Six colorful stickers on each sheet
(8-1/2" x 5-1/2" sheets)
Item 01 $1.00

RUBBER STAMP
Children can help "Stamp out the Foster Imposters!"
(1-1/2" x 1-3/4" image)
Item 03 $4.00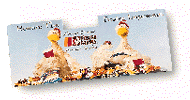 SUNSHADE
On a durable cardboard shade for your windshield, the Foster Imposters help you keep your cool - and your car's. Plus, it looks like two chickens at the wheel!
Item 05 $3.00

OVEN MITT
Don't get burned by the Foster Imposters! Keep a grip on hot chicken dishes by wearing a Foster Imposter oven mitt.
Item 07 $5.00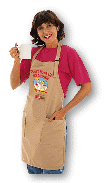 APRON
The chef will laugh all the way to the dining table in this whimsical, full-length apron with two pockets and adjustable neck strap.
(22" x 30")

(Available in denim only.)
Item 23 $12.00

LAPEL PIN
Collect pins? Our enamel-on-goldstone metal pin notifies your friends that you're "On the Loose!," too. 1-3/8" tie-tack closure.
Item 32 $3.00

BIG PLUSH TOYS
Big, fluffy, and ready to lie around doing nothing, our plush, 36" tall Foster Imposters make great couch potatoes. Choose the slightly larger driver or his passenger sidekick.
Item 33 $20.00 each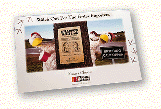 POSTER
"Watch Out for the Foster Imposters" - serves as a powerful warning of fun ahead.
(25" x 16")
Item 02 $2.00

MAGNET
"Beware! The Foster Imposters!" Keep yourself posted with this colorful, fun refrigerator magnet. A cute memento of these cultural icons.
(3-1/4" tall)
Item 04 $2.00

T-SHIRT
Soft and thick, our pre-shrunk 100% cotton "On the Loose!" Road Show T-shirt features bright portraits of everyone's favorite birds on the back, the Foster Farms logo on the front.
All sizes and styles $10.00
Item 08 Black S
Item 09 Black M
Item 10 Black L
Item 11 Black XL
Item 12 Black XXL
Item 13 Green S
Item 14 Green M
Item 15 Green L
Item 16 Green XL
Item 17 Green XXL
Item 18 White S
Item 19 White M
Item 20 White L
Item 21 White XL
Item 22 White XXL
HATS
Sturdy and soft brushed-cotton cap is embroidered with the Foster Imposters "On the Loose!" Road Show logo, with Foster Farms on the back. Obe size; adjustable fabric strap with bronzed buckle.
(3-1/4" tall)
All styles $6.00
Item 24 Solid Black
Item 25 Solid Blue
Item 26 Solid Green
Item 27 Black Crown, Red Bill
Item 28 Green Crown, Blue Bill

FULL OF BEADS
Full of beads and ready to toss, our 9" beady-eyed (and bead-filled) Foster Imposters add character to any beanbag collection. Choose the slightly heavier driver or his passenger sidekick.
Item 34 $5.00 each

GOLF CLUB COVERS
Distract your opponent with the beady-eyed stare of a plush Foster Imposters club cover! Choose the larger Imposter or his chicken-little sidekick. Approx. 8".
Item 35 - large $5.00
Item 36 - small $5.00