Russell Kool
Hillsboro, OR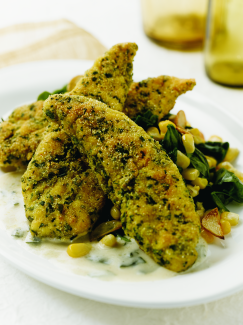 Chicken:
2 pounds Foster Farms chicken tenders
2 eggs, beaten
1/2 cup flour
1/4 cup cornmeal
1 Tbls curry powder
1 tsp thyme leaves
1 bunch Italian parsley, chopped
1/4 tsp salt
1/4 tsp black pepper
Fontina Cheese Sauce:
2 Tbls butter
3 Tbls flour
1/4 cup white wine
1/4 cup chicken stock
1 cup heavy cream
2/3 cup fontina cheese, grated
1/8 tsp nutmeg
1/2 tsp white pepper
1/4 cup basil leaves, chopped
Spinach:
3 Tbls extra virgin olive oil
1/2 bulb garlic, peeled and sliced
1 bag (10 oz) spinach leaves
1 can (15 oz) corn, drained or 1 1/4 cup fresh corn, if available
1/2 tsp salt
Place eggs in medium bowl. In large plastic sealable bag, place flour, cornmeal, curry powder, thyme, parsley and salt. Dip chicken first in eggs and then place in plastic bag. Seal bag and turn to coat well.
To make cheese sauce, melt butter in medium sauce pan over medium heat. Add flour and cook for 2 minutes while stirring. Add white wine and chicken stock; whisk well over medium high heat for 3 minutes. Add cream and cook, whisking, for an additional 7 minutes. Add fontina cheese, nutmeg and white pepper and cook for 5 minutes more. Stir in basil leaves. Lower heat to keep warm.
In large sauté pan, warm 2 tablespoons olive oil over medium-high heat. Place coated chicken tenders in pan and cook about 3 minutes per side, until browned. Remove chicken to plate. Add remaining olive oil to pan and warm over medium heat. Add garlic to pan and sauté 1 minute, until light golden brown. Add spinach, corn and salt; cover and cook until spinach is slightly wilted.
To serve, spoon cheese sauce on plates or platter. Top with spinach corn mixture and then chicken tenders.