Lemon Chicken Soup I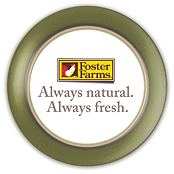 Servings: 6
Prep Time: 10 minutes
Cook Time: 40 minutes
User Rating:

Read User Reviews
Print:
3x5
,
4x6
,
full page
Copyright 2005 Allrecipes.com; by Therese
Summary
The chicken comes first in this easy recipe. Four ingredients (orzo pasts, beaten egg, and lemon juice) plus salt and pepper, and you have a tangy and filling chicken soup. Delicious with a large Greek salad.
INGREDIENTS
4 pounds Foster Farms whole chicken
8 cups water
1/2 (16 ounce) package uncooked orzo pasta
2 eggs
2 lemons
salt to taste
ground black pepper to taste
DIRECTIONS
1. In a large soup pot, cook chicken in water until the meat begins to fall off the bone.

2. Skim fat off stock. Remove the chicken from pot, and set aside to cool. Add pasta to stock, and cook for about 10 minutes. Shut off heat.

3. In a medium bowl, beat 2 eggs with the juice of 2 lemons until foamy. Whisk 1 cup stock slowly into the egg/lemon mixture. Repeat with another cup of stock, and pour mixture into soup.

4. Bone chicken, and add meat to soup. Stir well. Add salt and pepper to taste.
NUTRITIONAL INFO
| | |
| --- | --- |
| calories | 819 cal |
| total fat | 47.9 g |
| cholesterol | 298 mg |
| sodium | 245 mg |
| carbohydrates | 31.9 g |
| fiber | 2.9 g |
| protein | 63.9 g |