Chicken Mole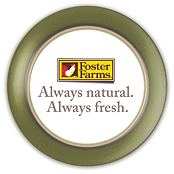 Servings: 4
Prep Time: 5 minutes
Cook Time: 45 minutes
User Rating:

Read User Reviews
Print:
3x5
,
4x6
,
full page
Foster Farms Recipe
INGREDIENTS
1 Foster Farms Whole Cut-up Chicken
1/4 cup vegetable oil
1 oz. chili powder
1/4 teaspoon fresh ground garlic
salt to taste
10 cups water
1/3 cup flour
3/4 cup creamy peanut butter
1 cup breadcrumbs
pepper, to taste
USER NOTES & RATINGS
11/13/2005 Reviewed by Olivia Jaime

How much chicken broth should I use? Is this the same recipe that was on the bag of whole chicken years ago sold at the stores? That was a great recipe.
Rate and add Comments
DIRECTIONS
1. Boil chicken in water, save broth, and set aside. In a pan heat oil and stir in flour. When flour is almost brown, add chili powder to brown also. NOTE: This is similar to browning flour for gravy. 2. Slowly, pour in broth from chicken. Stir to prevent lumping. Add 1/4 teaspoon of garlic. Stir in peanut butter. Add salt and pepper, to taste. Add 1 cup of breadcrumbs for thickness. Add chicken into the mole and mix. 3. Serve with chicken flavored rice and flour or corn tortillas