Turkey Macaroni Salad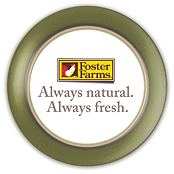 Servings: 4
Prep Time: 10 minutes
Cook Time: 15 minutes
User Rating:

Read User Reviews
Print:
3x5
,
4x6
,
full page
Copyright 2005 Allrecipes.com; by Kathy W.
Summary
This yummy salad would be great stuffed into hollowed out tomatoes or pita bread. The mayonnaise takes on a whole different personality when blended with yogurt, and this delicious dressing really compliments both the chunks of turkey and the cooked pasta.
INGREDIENTS
3 cups cooked Foster Farms Fresh Turkey Breast Cutlets, cubed
8 ounces dry fusilli/spiral pasta
1 cup mayonnaise
1 cup plain yogurt
1/4 cup chopped green onions
1 teaspoon salt
1/8 teaspoon ground white pepper
1 cup chopped celery
DIRECTIONS
1. Cook pasta according to package directions. Drain, rinse with cold water, and drain again.

2. In a large bowl, combine mayonnaise, yogurt, onions, salt, and white pepper. Gently stir in turkey, pasta, and celery. Cover, and chill until serving time.
NUTRITIONAL INFO
| | |
| --- | --- |
| Calories | 858 cal |
| Total Fat | 57.2 g |
| Cholesterol | 127 mg |
| Sodium | 1024 mg |
| Carbohydrates | 46.7 g |
| Fiber | 2.6 g |
| Protein | 40 g |