Pineapple Chicken Tenders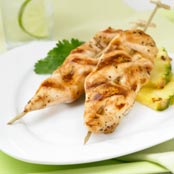 Servings: 10
Prep Time: 30 minutes
Cook Time: 10 minutes
User Rating:

Read User Reviews
Print:
3x5
,
4x6
,
full page
Copyright 2005 Allrecipes.com; by Hillary Roberts
Summary
Foster Farms Chicken Tenders are skewared and brushed with a tropical mixture of pineapple juice, brown sugar and soy sauce, and then they''re grilled. That's all it takes to make these scrumptious kabobs.
INGREDIENTS
Pineapple Marinade
1 cup pineaple juice
1/2 cup packed brown sugar
1/3 cup light soy sauce
Skewers
2 pounds Foster Farms Breast Tenders
skewers
USER NOTES & RATINGS
9/3/2005 Reviewed by Cindy

Delicious, quick and easy.
Rate and add Comments
DIRECTIONS
1. In a small saucepan over medium heat, mix pineapple juice, brown sugar, and soy sauce. Remove from heat just before the mixture comes to a boil.

2. Place chicken tenders in a medium bowl. Cover with the pineapple marinade, and refrigerate for at least 30 minutes.

3. Preheat grill for medium heat. Thread chicken lengthwise onto wooden skewers.

4. Lightly oil the grill grate. Grill chicken tenders 5 minutes per side, or until juices run clear. They cook quickly, so watch them closely.
NUTRITIONAL INFO
| | |
| --- | --- |
| Calories | 160 cal |
| Total Fat | 2.2 g |
| Cholesterol | 52 mg |
| Sodium | 333 mg |
| Carbohydrates | 14.9 g |
| Fiber | 0.1 g |
| Protein | 19.4 g |