Cajun Barbecued Chicken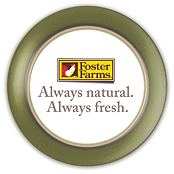 Servings: 6
Prep Time: 30 minutes
Cook Time: 15 minutes
User Rating:

Read User Reviews
Print:
3x5
,
4x6
,
full page
Copyright 2005 Allrecipes.com; by Janie Corliss
Summary
Using Foster Farms Boneless Skinless Chicken Breast Fillets, this is a simple and fast marinade for moist and flavorful grilled chicken breasts. White wine, vegetable oil, and a sprinkling of Cajun spices coat the chicken that ''s chilled for a few hours, then grilled.
INGREDIENTS
6 Foster Farms Boneless Skinless Breast Fillets
1/4 cup vegetable oil
1/2 cup white wine
2 tablespoons Cajun seasoning
DIRECTIONS
1. In a bowl, mix the oil, white wine, and Cajun seasoning. Place chicken in the bowl, and coat with the mixture. Cover, and refrigerate for at least 3 hours.

2. Preheat the grill for high heat.

3. Lightly oil the grill grate. Discard marinade, and place chicken on the grill. Cook for 6 to 8 minutes on each side, until juices run clear.
NUTRITIONAL INFO
| | |
| --- | --- |
| Calories | 232 cal |
| Total Fat | 12.1 g |
| Cholesterol | 67 mg |
| Sodium | 534 mg |
| Carbohydrates | 1.3 g |
| Fiber | 0.2 g |
| Protein | 24.7 g |