Cajun Chicken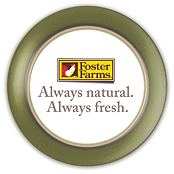 Servings: 10
Prep Time: 15 minutes
Cook Time: 15 minutes
User Rating:

Read User Reviews
Print:
3x5
,
4x6
,
full page
Copyright 2005 Allrecipes.com; by Wood Halsey
Summary
Using Foster Farms Thin-Slice Boneless Skinless Breast Fillets, this tasty, spicy Cajun dish is sure to be a hit with the family! This is a great dish for a great BBQ!
INGREDIENTS
Marinade
2 cups vegetable oil
2 tablespoons Cajun seasoning
2 tablespoons dried Italian-style seasoning
2 tablespoons lemon pepper
garlic powder to taste
10 Foster Farms Thin-Sliced Boneless Skinless Breast Fillets
DIRECTIONS
1. In a large shallow dish, mix the oil, Cajun seasoning, Italian seasoning, garlic powder, and lemon pepper. Place the chicken in the dish, and turn to coat with the mixture. Cover, and refrigerate for 1/2 hour.

2. Preheat the grill for high heat.

3. Lightly oil the grill grate. Drain chicken, and discard marinade. Place chicken on hot grill and cook for 6 to 8 minutes on each side, or until juices run clear.
NUTRITIONAL INFO
| | |
| --- | --- |
| Calories | 536 cal |
| Total Fat | 47.8 g |
| Cholesterol | 67 mg |
| Sodium | 620 mg |
| Carbohydrates | 1.8 g |
| Fiber | 0.6 g |
| Protein | 24.8 g |