Fried Chicken with Creamy Gravy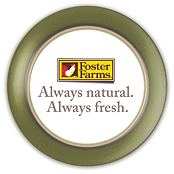 Servings: 8
Prep Time: 25 minutes
Cook Time: 30 minutes
User Rating:

Read User Reviews
Print:
3x5
,
4x6
,
full page
Copyright 2005 Allrecipes.com; by Gina
Summary
Using, Foster Farms Whole Cut Up Chicken, cut into, seaon up the pieces of this fried chicken with a rich gravy made from the pan drippings. Down home goodness.
INGREDIENTS
1 (4 pound) Foster Farms Whole Cut Up Chicken, cut into pieces
1/2 cup milk
1 egg, beaten
1 cup all-purpose flour
2 teaspoons garlic salt
1 teaspoon paprika
1 teaspoon ground black pepper
1/4 teaspoon poultry seasoning
3 cups vegetable oil
1 cup chicken broth
1 cup milk
DIRECTIONS
1. In a medium bowl, beat together 1/2 cup milk and egg. In a resealable plastic bag, mix together the flour, garlic salt, paprika, pepper and poultry seasoning. Place chicken in bag, seal, and shake to coat. Dip chicken in milk and egg mixture, then once more in flour mixture. Reserve any remaining flour mixture.

2. In a large skillet, heat oil to 365 degrees F (185 degrees C). Place coated chicken in the hot oil, and brown on all sides. Reduce heat to medium-low, and continue cooking chicken until tender, about 30 minutes. Remove chicken from skillet, and drain on paper towels.

3. Discard all but 2 tablespoons of the frying oil. Over low heat, stir in 2 tablespoons of the reserved flour mixture. Stirring constantly, cook about 2 minutes. Whisk in chicken stock, scraping browned bits off bottom of skillet. Stir in 1 cup milk, and bring all to a boil over high heat, stirring constantly. Reduce heat to low, and simmer for about 5 minutes. Serve immediately with the chicken.
NUTRITIONAL INFO
| | |
| --- | --- |
| Calories | 1312 cal |
| Total Fat | 118.6 g |
| Cholesterol | 200 mg |
| Sodium | 768 mg |
| Carbohydrates | 14.8 g |
| Fiber | 0.6 g |
| Protein | 46.5 g |