Slow Cooker Adobo Chicken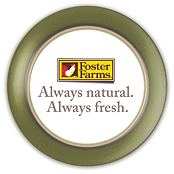 Servings: 4
Prep Time: 30 minutes
Cook Time: 480 minutes
User Rating:

Read User Reviews
Print:
3x5
,
4x6
,
full page
Copyright 2005 Allrecipes.com; by Adrienne Lapp
Summary
Using Foster Farms Whole Cut Chicken, this is an easy slow cooker recipe with soy sauce, garlic, and onion. Do not be put off by the vinegar -- it tenderizes the chicken and loses its potent flavor in the cooking.
INGREDIENTS
1 (3 pound) Foster Farms Whole Cut Up, cut into pieces
1 small sweet onion, sliced
8 cloves garlic, crushed
3/4 cup soy sauce
1/2 cup vinegar
DIRECTIONS
1. Place chicken in a slow cooker. In a small bowl mix the onion, garlic, soy sauce, and vinegar, and pour over the chicken. Cook on Low for 6 to 8 hours.
NUTRITIONAL INFO
| | |
| --- | --- |
| Calories | 378 cal |
| Total Fat | 22.1 g |
| Cholesterol | 92 mg |
| Sodium | 2820 mg |
| Carbohydrates | 9.3 g |
| Fiber | 0.8 g |
| Protein | 34.5 g |