Chicken With Portobello Mushrooms and Artichokes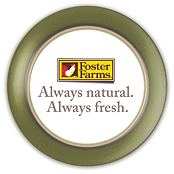 Summary
Dust Foster Farms boneless skinless chicken breasts with a seasoned flour, then saute and serve with an aromatic sauce of portobello mushrooms, onions, broth, lemon juice, tarragon and artichokes. A dash of brandy deepens the earthy flavors.
INGREDIENTS
4 Foster Farms skinless, boneless chicken breast halves
2 tablespoons olive oil
1/4 cup all-purpose flour
salt and pepper to taste
1 small onion, thinly sliced
2 portobello mushrooms
1/2 cup beef broth
2 teaspoons dried tarragon
5 canned quartered artichoke hearts
1/2 cup brandy
1/4 cup lemon juice
DIRECTIONS
1. Lightly pound chicken breasts to even thickness. Dust chicken with flour, and add salt and pepper to your taste.

2. In a heavy skillet, heat 1 tablespoon olive oil over medium heat. Place chicken in pan, brown on both sides, and cook through; this will take about 8 to 10 minutes. Remove from pan, and set aside.

3. Add remaining 1 tablespoon olive oil, and saute onions and mushrooms over medium heat for 3 to 5 minutes.

4. Add beef broth, lemon juice, tarragon, and artichoke hearts to the pan: heat for 2 to 3 minutes, stirring gently. Stir in brandy, and simmer for an additional 2 to 3 minutes. Return chicken to the pan, and heat through.
NUTRITIONAL INFO
| | |
| --- | --- |
| calories | 343 cal |
| total fat | 8.6 g |
| cholesterol | 68 mg |
| sodium | 290 mg |
| carbohydrates | 13.6 g |
| fiber | 2.1 g |
| protein | 30.9 g |