Drumsticks Italiano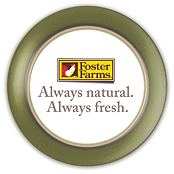 Summary
Using fresh Foster Farms chicken, this Italian inspired dish is tasty, yet simple to prepare. Serve with warmed french bread for a real treat.
INGREDIENTS
Chicken:
1 package (about 1 1/2 lbs.) Foster Farms Chicken Drumsticks
1 teaspoon vegetable oil
Spaghetti Sauce Mixture:
1 cup sliced mushrooms
1 jar (30 oz.) spaghetti sauce
Top With:
6 slices mozzarella cheese
2 tablespoons chopped parsley
Serve With:
hot cooked pasta
DIRECTIONS
1. Rinse chicken and pat dry. In a 4-quart saucepan, in hot oil, brown chicken on all sides; set aside.

2. In saucepan, cook mushrooms until tender and drain liquid. Stir in spaghetti sauce and chicken. Heat to boiling.

3. Reduce heat; simmer, uncovered, 25 minutes or until chicken is no longer pink when cut into.

4. Top with cheese and parsely. Serve with pasta.