Candied Chicken Breasts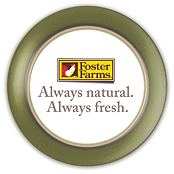 Servings: 10
Prep Time: 15 minutes
Cook Time: 60 minutes
User Rating:
Read User Reviews
Print:
3x5
,
4x6
,
full page
Copyright 2005 Allrecipes.com; by Judi Johnston
Summary
Baked in a sweet, tangy sauce of ketchup, mustard, sugar, soy and Worcestershire, these Foster Farms Boneless Skinless Chicken Breasts sport a festive pineapple garnish.
INGREDIENTS
10 Foster Farms skinless, boneless chicken breast halves
2 cups dry bread crumbs
2 tablespoons all-purpose flour
1 tablespoon dried oregano
2 teaspoons salt
2 teaspoons ground black pepper
1 tablespoon vegetable oil
1 1/2 cups packed brown sugar
1/4 cup prepared mustard
1/2 cup ketchup
1 tablespoon Worcestershire sauce
1 tablespoon soy sauce
1/4 cup grated onion
1/2 teaspoon salt
3/4 cup water
10 pineapple rings
DIRECTIONS
1. Rinse chicken breasts and pat dry. In a shallow dish or bowl, mix together the bread crumbs, flour, oregano, 2 teaspoons salt and pepper. Heat oil in a large skillet over medium high heat; dredge chicken in bread crumb mixture and brown in skillet, about 3 to 4 minutes each side. Layer chicken in 2 lightly greased 9x13 inch baking dishes.

2. Preheat oven to 350 degrees F (175 degrees C).

3. In a large saucepan over low heat, combine the brown sugar, mustard, ketchup, Worcestershire sauce, soy sauce, onion, 1/2 teaspoon salt and water. Bring to a boil, and pour over chicken. Cover baking dishes with aluminum foil.

4. Bake in preheated oven for 1 hour, or until chicken is no longer pink and juices run clear. Top each piece with a pineapple ring, and serve.
NUTRITIONAL INFO
| | |
| --- | --- |
| calories | 425 cal |
| total fat | 4.3 g |
| cholesterol | 68 mg |
| sodium | 1183 mg |
| carbohydrates | 65.5 g |
| fiber | 1.8 g |
| protein | 30.8 g |