Chicken Liver Kabobs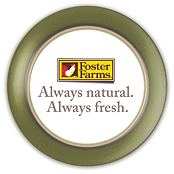 Summary
These kabobs are a great way to prepare Foster Farms chicken livers. The bacon is a nice addition, punching up the flavor.
INGREDIENTS
Chicken Livers:
1 dozen Foster Farms Chicken Livers
Kabob Ingredients:
12 slices bacon
12 small whole white boiling onions
1 to 2 green peppers, cut into 12 chunks
12 mushroom caps
12 cherry tomatoes
1/4 cup barbecue sauce or 1/4 cup butter with 1 tablespoon lemon juice plus 1/2 teaspoon tarragon
1 10-inch skewers
DIRECTIONS
1. Cut chicken livers in half, roll in half of a bacon slice, and thread meat alternately with onions, green peppers, mushroom caps and tomatoes on skewers.

2. Place on broiler rack, brush with favorite barbecue sauce or butter mixture. Broil about 6-inches from heat for 5 minutes. Turn, brush with sauce and broil for approximately 5 minutes longer, or until bacon is crisp and liver is slightly pink inside.