Salsa Chicken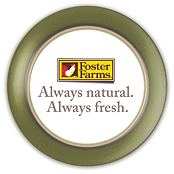 Servings: 4
Prep Time: 5 minutes
Cook Time: 40 minutes
User Rating:

Read User Reviews
Print:
3x5
,
4x6
,
full page
Copyright 2005 Allrecipes.com; by Faye
Summary
Foster Farms Chicken Breast seasoned with taco seasoning and topped with salsa, then baked.
INGREDIENTS
4 Foster Farms Boneless Skinless Breast Fillets
4 teaspoons taco seasoning mix
1 cup salsa
1 cup shredded Cheddar cheese
2 tablespoons sour cream (optional)
USER NOTES & RATINGS
9/20/2005 Reviewed by chuck

Real good and fast to make
Rate and add Comments
DIRECTIONS
1. Preheat oven to 375 degrees F (190 degrees C)

2. Place chicken breasts in a lightly greased 9x13 inch baking dish. Sprinkle taco seasoning on both sides of chicken breasts, and pour salsa over all.

3. Bake at 375 degrees F (190 degrees C) for 25 to 35 minutes, or until chicken is tender and juicy and its juices run clear.

4. Sprinkle chicken evenly with cheese, and continue baking for an additional 3 to 5 minutes, or until cheese is melted and bubbly. Top with sour cream if desired, and serve.
NUTRITIONAL INFO
| | |
| --- | --- |
| Calories | 287 cal |
| Total Fat | 12.5 g |
| Cholesterol | 101 mg |
| Sodium | 752 mg |
| Carbohydrates | 6.7 g |
| Fiber | 1 g |
| Protein | 35.3 g |