Chicken Riggies II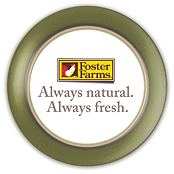 Servings: 4
Prep Time: 20 minutes
Cook Time: 30 minutes
User Rating:

Read User Reviews
Print:
3x5
,
4x6
,
full page
Copyright 2005 Allrecipes.com; by deanna
Summary
Using Foster Farms Chicken Breasts, rigatoni is the featured pasta, of course, with a garlicky tomato cream sauce laden with sweet peppers.
INGREDIENTS
2 pounds Foster Farms Boneless Skinless Breast Fillets
4 tablespoons olive oil
1/4 cup butter
5 cloves garlicm, minced
10 tablespoons minced shallot
salt and pepper to taste
1 (4 ounce) jar sweet red peppers, drained and julienned
1/2 cup fresh tomato sauce
1/4 cup dry sherry
1 pint heavy cream
1 (8 ounce) package uncooked rigatoni pasta
DIRECTIONS
1. In a large saucepan, heat oil and melt butter over medium heat. Add garlic and shallots and saute until soft, then add chicken, season with salt and pepper to taste and saute for 8 to 10 minutes, or until halfway cooked.

2. Add peppers and stir in tomato sauce, reduce heat to low and simmer about 10 minutes. Add sherry and simmer for another 10 minutes, then stir in cream and simmer for 10 minutes more. Toss all with hot, cooked pasta and serve.
NUTRITIONAL INFO
| | |
| --- | --- |
| Calories | 1134 cal |
| Total Fat | 73.3 g |
| Cholesterol | 326 mg |
| Sodium | 974 mg |
| Carbohydrates | 55.1 g |
| Fiber | 2.9 g |
| Protein | 64 g |