Skewered Chicken Livers and Bacon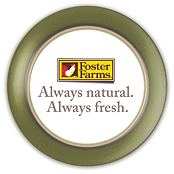 Summary
These scrumptious screwers use Foster Farms chicken liver and bacon to create a one of a kind flavor sensation.
INGREDIENTS
Chicken Livers:
1 carton (15 oz.) Foster Farms Chicken Livers
1/4 cup flour
1 teaspoon salt
1/8 teaspoon coarsely ground pepper
Bacon:
3 slices bacon
2 tablespoons melted butter or margarine
DIRECTIONS
1. Dry livers and roll in flour mixed with salt and pepper.

2. Cut each bacon slice in 5 pieces. On 3 bamboo skewers alternate bacon pieces with livers, skewering livers through thickest parts.

3. Place on broiler pan. Broil 4 inches from heat, turning and basting frequently with butter. Broil until bacon is crisp and livers are browned outside and pink inside, about 5 minutes per side.