Rumaki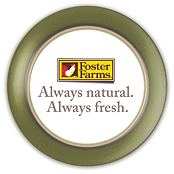 Summary
The combination of Foster Farms chicken livers and a flavorful marinade make for one indulgent recipe. Serve with rice or a side salad for a delicious meal.
INGREDIENTS
Chicken Livers:
1 package Foster Farms Chicken Livers
1 can (8 oz.) drained water chestnuts
12 slices (or more) thinly sliced smoked bacon, each slice cut into thirds
Marinade:
1 cup soy sauce
6 teaspoons dry sherry
2 cloves garlic, minced
1/2 teaspoon ginger juice or fresh minced ginger
DIRECTIONS
1. Cut livers into bite-sized pieces. Cut water chestnuts into 1/4-inch slices.

2. Wrap liver pieces around water chestnuts. Wrap 1/3 slice of bacon around both liver and water chestnut and skewer with toothpicks.

3. Make marinade, mix together soy sauce, sherry, garlic and ginger. Marinate skewered liver 1 to 4 hours in the refrigerator, turning once or twice. Drain.

4. Broil until bacon is nearly crisp, turning once, about 5 minutes per side.