Gorgonzola-Walnut Stuffed Chicken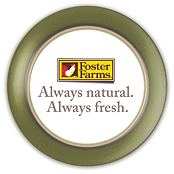 Summary
In this recipe Foster Farms boneless breasts are stuffed with cheesy, nutty goodness. The Gorgonzola cheese and toasted walnuts make this dish divine!
INGREDIENTS
Chicken:
4 Foster Farms Boneless Chicken Breasts, with skin
Chicken Stuffing:
3/4 cup Gorgonzola
1 cup walnuts, chopped
1 teaspoon salt
2 teaspoons pepper
2 cups all-purpose flour
DIRECTIONS
1. Preheat oven to 350 degrees. Roast chopped walnuts for 5 to 10 minutes in oven; remove and cool. Raise oven temperature to 400 degrees.

2. Mix gorgonzola, walnuts, salt, and pepper. Lift skin away from chicken flesh. Stuff 2 tablespoons of stuffing mixture into cavity and between the skin and the flesh.

3. Dredge stuffed breasts in flour and pat away excess.

4. In a large skillet or saute pan, heat 4 tablespoons of clarified butter over high heat.

5. Saute chicken until browned on both sides, then transfer to a baking sheet and place in oven for 20 to 25 minutes.