RamJam Chicken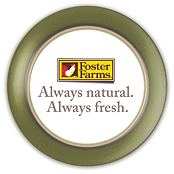 Servings: 8
Prep Time: 200 minutes
Cook Time: 15 minutes
User Rating:

Read User Reviews
Print:
3x5
,
4x6
,
full page
Copyright 2005 Allrecipes.com; by Laura Ramanjooloo
Summary
Foster Farms Chicken is marinated in what may be the perfect blend of wine and spices, then grilled to perfection!
INGREDIENTS
Marinade
1/4 cup soy sauce
3 tablespoons dry white wine
2 tablespoons lemon junice
2 tablespoons vegetable oil
3/4 teaspoon dried Italian-style seasoning
1 teaspoon grated fresh ginger root
1 clove garlic, crushed
1/4 teaspoon onion powder
1 pinch ground black pepper
8 Foster Farms Boneless Skinless Breast Tenders
DIRECTIONS
1. In a large, resealable plastic bag, combine the soy sauce, wine, lemon juice, oil, Italian-style seasoning, ginger, garlic, onion powder, and ground black pepper. Place chicken in the bag. Seal, and let marinate in the refrigerator for at least 3 hours, or overnight.

2. Preheat an outdoor grill for medium-high heat.

3. Thread the chicken onto skewers, and set aside. Pour marinade into a small saucepan, and bring to a boil over high heat.

4. Lightly oil the grill grate. Cook chicken on the prepared grill for approximately 8 minutes per side, basting with the sauce several times. Chicken is done when juices run clear.
NUTRITIONAL INFO
| | |
| --- | --- |
| Calories | 302 cal |
| Total Fat | 9.1 g |
| Cholesterol | 134 mg |
| Sodium | 573 mg |
| Carbohydrates | 1.4 g |
| Fiber | 0.2 g |
| Protein | 49.5 g |