Mediterranean Chicken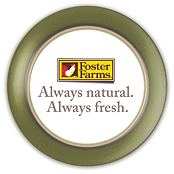 Summary
Enjoy Foster Farms fresh chicken half breasts paired with artichokes, mushroom, and olives in this delicous recipe. Add garlic to your vegetable sauté for an extra burst of flavor!
INGREDIENTS
Chicken:
1 package (about 1 1/2 lbs.) Foster Farms Chicken Half Breasts
1 teaspoon olive oil
Veggie Mix:
1 cup sliced mushrooms
1/2 cup chopped onion
1 jar (15 oz.) marinara sauce
1 package (9 oz.) frozen artichoke hearts, thawed and drained
1 can (2.75 oz.) sliced olives, drained
Serve With:
hot cooked fettuccine
grated parmesan cheese
DIRECTIONS
1. Rinse chicken and pat dry. In large skillet, in hot oil, brown chicken on all sides. Remove chicken.

2. Drain oil from skillet and reserve 1 tablespoon. In reserved tablespoon of oil, cook mushrooms and onion until tender.

3. Stir in marinara sauce, artichokes, and olives. Return chicken to skillet. Cover and cook about 25 minutes, stirring occasionally, until chicken is no longer pink when cut into.

4. Serve over fettuccine and sprinkle with cheese.