Slow Cooker Lemon Garlic Chicken II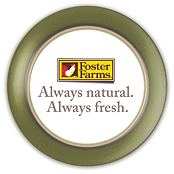 Servings: 6
Prep Time: 15 minutes
Cook Time: 195 minutes
User Rating:

Read User Reviews
Print:
3x5
,
4x6
,
full page
Copyright 2005 Allrecipes.com; by Carla Joy
Summary
Seasoned, browned chicken breasts slow cooked with lemon juice, garlic, and chicken bouillon. A wonderful ''fix and forget'' recipe that is easy and pleases just about everyone. Great served with rice or pasta, or even alone.
INGREDIENTS
Rub
1 teaspoon dried oregano
1/2 teaspoon salt
1/4 teaspoon ground black pepper
Chicken
2 pounds Foster Farms Boneless Skinless Breast Fillets
2 tablespoons butter
1/4 cup water
3 tablespoons fresh lemon juice
2 cloves garlic, minced
1 teaspoon chicken bouillon granules
1 teaspoon chopped fresh parsley
DIRECTIONS
1. In a bowl, mix the oregano, salt, and pepper. Rub the mixture into chicken. Melt the butter in a skillet over medium heat. Brown chicken in butter for 3 to 5 minutes on each side. Place chicken in a slow cooker.

2. In the same skillet, mix the water, lemon juice, garlic, and bouillon. Bring the mixture to boil. Pour over the chicken in the slow cooker.

3. Cover, and cook on High for 3 hours, or Low for 6 hours. Add the parsley to the slow cooker 15 to 30 minutes before the end of the cook time.
NUTRITIONAL INFO
| | |
| --- | --- |
| Calories | 193 cal |
| Total Fat | 7 g |
| Cholesterol | 89 mg |
| Sodium | 360 mg |
| Carbohydrates | 1.3 g |
| Fiber | 0.2 g |
| Protein | 29.6 g |