Moroccan Chicken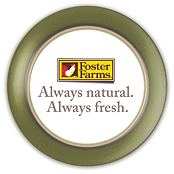 Servings: 4
Prep Time: 10 minutes
Cook Time: 30 minutes
User Rating:
Read User Reviews
Print:
3x5
,
4x6
,
full page
Copyright 2005 Allrecipes.com; by Sarah and Annette
Summary
Spices, spices, spices! This recipe is thick with 'em, and your taste buds will be thick with pleasure from these Foster Farms Boneless Skinless Chicken Breats with a Moroccan twist. This exotic tasting dish is a definite crowd pleaser!
INGREDIENTS
1 pound Foster Farms Boneless Skinless chicken breasts meat - cubed
2 teaspoons salt
1 onion, chopped
2 cloves garlic, chopped
2 carrots, sliced
2 stalks celery, sliced
1 tablespoon minced fresh ginger root
1/2 teaspoon paprika
3/4 teaspoon ground cumin
1/2 teaspoon dried oregano
1/4 teaspoon ground cayenne pepper
1/4 teaspoon ground turmeric
1 1/2 cups chicken broth
1 cup crushed tomatoes
1 cup canned chickpeas, drained
1 zucchini, sliced
1 tablespoon lemon juice
DIRECTIONS
1. Season chicken with salt and brown in a large saucepan over medium heat until almost cooked through. Remove chicken from pan and set aside.

2. Saute onion, garlic, carrots and celery in same pan. When tender, stir in ginger, paprika, cumin, oregano, cayenne pepper and turmeric; stir fry for about 1 minute, then mix in broth and tomatoes. Return chicken to pan, reduce heat to low and simmer for about 10 minutes.

3. Add chickpeas and zucchini to pan and bring to simmering once again; cover pan and cook for about 15 minutes, or until zucchini is cooked through and tender. Stir in lemon juice and serve.
NUTRITIONAL INFO
| | |
| --- | --- |
| carbohydrates | 27.8 g |
| fiber | 6.4 g |
| protein | 36 g |
| calories | 286 cal |
| total fat | 3.6 g |
| cholesterol | 67 mg |
| sodium | 2114 mg |