Sweet & Sour Chicken Thighs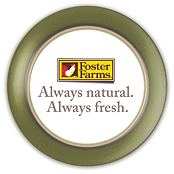 Summary
Using Foster Farms fresh chicken thighs and a combination of sauces, this Sweet and Sour recipe melds great Asian flavors together for a special treat. Any extra sauce can be splashed on some fresh pineapple for a delicious sweet and sour side.
INGREDIENTS
Chicken:
1 package (about 2 1/3 lbs.) Foster Farms Chicken Thighs
Sauce:
1/4 cup soy sauce
1/4 cup pineapple juice
2 tablespoons brown sugar
1 tablespoon red wine vinegar
2 teaspoons cornstarch
1 teaspoon fresh ginger, finely chopped
1 clove garlic, finely chopped
DIRECTIONS
1. Rinse chicken and pat dry.

2. In skillet, combine soy sauce, pineapple juice, brown sugar, vinegar, cornstarch, ginger, and garlic. Heat to boiling, reduce heat and simmer 2 minutes.

3. Add chicken. Cover and simmer 25 to 35 minutes, stirring occasionally, until chicken is done.

4. Serve with hot rice.