Sesame Pasta Chicken Salad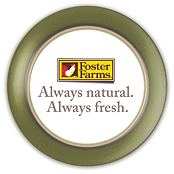 Servings: 10
Prep Time: 20 minutes
Cook Time: 10 minutes
User Rating:
Read User Reviews
Print:
3x5
,
4x6
,
full page
Copyright 2005 Allrecipes.com; by Olivia Hines
Summary
A refreshing light pasta salad with a delicious Asian flair. Great for a summer cookout or picnic.
INGREDIENTS
1/4 cup sesame seeds
Pasta
1 (16 ounce) package bow tie pasta
1/2 cup vegetable oil
1/3 cup light soy sauce
1/3 cup rice vinegar
1 teaspoon sesame oil
3 tablespoons white sugar
1/2 teaspoon ground ginger
1/4 teaspoon ground black pepper
Chicken
3 cups shredded, cooked Foster Farms Chicken Breasts
1/3 cup chopped fresh cilantro
1/3 cup chopped green onion
DIRECTIONS
1. Heat a skillet over medium-high heat. Add sesame seeds, and cook stirring frequently until lightly toasted. Remove from heat, and set aside.

2. Bring a large pot of lightly salted water to a boil. Add pasta, and cook for 8 to 10 minutes, or until al dente. Drain pasta, and rinse under cold water until cool. Transfer to a large bowl.

3. In a jar with a tight-fitting lid, combine vegetable oil, soy sauce, vinegar, sesame oil, sugar, sesame seeds, ginger, and pepper. Shake well.

4. Pour sesame dressing over pasta, and toss to coat evenly. Gently mix in chicken, cilantro, and green onions.
NUTRITIONAL INFO
| | |
| --- | --- |
| calories | 349 cal |
| total fat | 15.2 g |
| cholesterol | 24 mg |
| sodium | 308 mg |
| carbohydrates | 38.3 g |
| fiber | 2.2 g |
| protein | 15.9 g |