Luau Chicken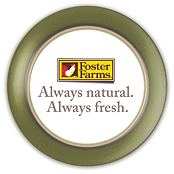 Summary
Using Foster Farms fresh wings, thighs, or drumettes, this recipe is the perfect addition to any menu. Dream of the islands as you munch on sweet Luau Chicken.
INGREDIENTS
Chicken:
15 Foster Farms Chicken Drumsticks, Wings or Thighs
Marinade:
1/4 cup pineapple juice
1/4 cup dark corn syrup
1/4 cup chili sauce
2 tablespoons lime juice
2 cloves garlic, finely chopped
2 tablespoons grated fresh ginger
DIRECTIONS
1. Rinse chicken and pat dry. In heavy plastic bag or large bowl, mix remaining ingredients. Marinate chicken in sauce at least 8 hours, but no longer than 24 hours.

2. Heat oven to 350 degrees. Spray jelly roll pan with nonstick cooking spray. Place chicken in pan and reserve marinade.

3. Roast chicken 50 to 60 minutes or until chicken is no longer pink when cut into, brushing occasionally with marinade.