Mushroom Chicken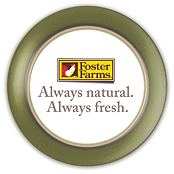 Summary
Enjoy Mushroom Chicken with Foster Farms fresh chicken drumsticks. This easy-to-prepare recipe is a sure crowd pleaser. Also makes a great main dish paired with sautéed broccoli or green beans.
INGREDIENTS
Chicken:
15 Foster Farms Chicken Drumsticks, Wings or Thighs
Soup Mixture:
1 package (1.8 oz.) onion-mushroom soup mix
1 cup unseasoned breadcrumbs
1/3 cup Parmesan cheese, grated
1 teaspoon oregano
Egg Mixture:
1 egg, lightly beaten
2 tablespoons water
DIRECTIONS
1. Heat oven to 375 degrees. Spray rectangular pan with nonstick cooking spray. Rinse chicken and pat dry.

2. In heavy plastic bag or medium bowl, combine soup mix, breadcrumbs, cheese, and oregano.

3. In medium bowl mix egg and water. Dip chicken, one piece at a time, in egg mixture. Coat with soup mixture and shake off excess. Arrange in pan.

4. Bake 35 to 40 minutes or until chicken is no longer pink when cut into.