Restaurant-Style Tequila Lime Chicken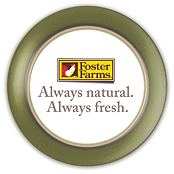 Servings: 4
Prep Time: 150 minutes
Cook Time: 20 minutes
User Rating:

Read User Reviews
Print:
3x5
,
4x6
,
full page
Copyright 2005 Allrecipes.com; by Robbie Rice
Summary
This spicy, marinated broiled chicken dish is the same as that of a well-known restaurant chain's Tequila Lime Chicken. Enjoy! Serve with rice and pico de gallo salsa, if desired.
INGREDIENTS
4 Foster Farms Boneles Skinless Breast Fillets
Marinade
1 cup water
1/3 cup teriyaki sauce
2 tablespoons lime juice
2 teaspoons minced garlic
1 teaspoon liquid smoke flavoring
1/2 teaspoon salt
1/4 teaspoon ground ginger
1/4 teaspoon tequila
Mexi-Ranch Dressing
1/4 cup mayonnaise
1/4 cup sour cream
1 tablespoon milk
2 teaspoons minced tomato
1 1/2 teaspoons chopped green chili peppers
1 teaspoon minced onion
1/4 teaspoon dried parsley
1/4 teaspoon hot pepper sauce
1 pinch salt
1 pinch dried dill weed
1 pinch paprika
1 pinch cayenne pepper
1 pinch ground cumin
1 pinch chili powder
1 pinch ground black pepper
Extras
1 cup shredded Cheddar/Monterey Jack cheese blend
2 cups crumbled corn chips
DIRECTIONS
1. To Marinate: Combine the water, teriyaki sauce, lime juice, garlic, liquid smoke, salt, ginger and tequila in a medium nonporous glass bowl and mix all together. Add chicken and turn to coat; cover bowl and refrigerate for 2 to 3 hours.

2. To Make Mexi-Ranch Dressing: Combine the mayonnaise, sour cream, milk, tomato, peppers, onion, parsley, hot pepper sauce, salt, dill weed, paprika, cayenne pepper, cumin, chili powder and ground black pepper in a medium bowl and mix well until smooth. Cover bowl and chill until needed.

3. Preheat oven to Grill/Broil.

4. Remove chicken from marinade, discarding any remaining marinade. Grill/broil chicken for 3 to 5 minutes per side, or until cooked through and juices run clear.

5. Arrange cooked chicken in a 9x13 inch baking dish. Spread a layer of Mexi-Ranch dressing over each piece of chicken, followed by 1/4 cup of cheese blend. Broil in preheated oven for 2 to 3 minutes, or just until cheese has melted.

6. Spread a bed of about 1/2 cup crumbled corn chips on each of 4 plates. Slide a chicken breast onto the chips on each plate and serve.
NUTRITIONAL INFO
| | |
| --- | --- |
| Calories | 1032 cal |
| Total Fat | 65 g |
| Cholesterol | 106 mg |
| Sodium | 2057 mg |
| Carbohydrates | 67.3 g |
| Fiber | 4.4 g |
| Protein | 40.7 g |