Taquito Drummettes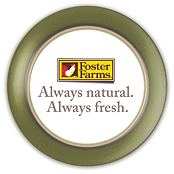 Summary
Warm up your guests with these spicy drummettes using Foster Farms fresh chicken wings. These tasty appetizers are sure to get the fiesta started!
INGREDIENTS
Chicken:
1 package Foster Farms Chicken Wing Drummettes
Topping:
hot pepper sauce
1/3 cup finely crushed tortilla chips
1/4 teaspoon salt
salsa
DIRECTIONS
1. Rub a few drops hot pepper sauce on each drummette. Roll in mixture of tortilla chips and salt.

2. Place drummettes on baking sheet, bake at 400 degrees for 20 to 25 minutes.

3. Serve with salsa as a spicy dip.