Cheesy Nacho Chicken Wings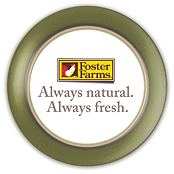 Summary
Using Foster Farms fresh chicken, these tasty wings deliver a great cheesy flavor!
INGREDIENTS
Chicken:
1 package (about 2 lbs.) Foster Farms Chicken Wings
Sauce:
2 teaspoons vegetable oil
1/2 cup milk
1 can (11 oz.) nacho cheese soup
3 tablespoons bacon bits
DIRECTIONS
1. Rinse chicken and pat dry. Cut wings at joints and discard tips.

2. In large skillet, in hot oil, brown wings on all sides then set aside. Drain juice from skillet.

3. In skillet, mix milk, soup, and bacon until smooth. Heat to boiling. Reduce heat and stir in wings. Cover and simmer 20 to 25 minutes or until chicken is no longer pink when cut into.