Chicken on a Stick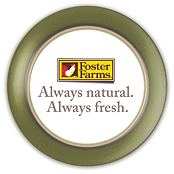 Servings: 4
Prep Time: 70 minutes
Cook Time: 20 minutes
User Rating:

Read User Reviews
Print:
3x5
,
4x6
,
full page
Copyright 2005 Allrecipes.com; by Chris
Summary
Easy recipe for marinated chicken breast tenders cooked on skewers on the grill. These are so simple, and your family will love them!
INGREDIENTS
4 Foster Farms Boneless Skinless Breast Tenders
1 teaspoon meat tenderizer
1/2 cup Italian-style salad dressing
USER NOTES & RATINGS
3/30/2006 Reviewed by jennifer pixley

Rate and add Comments
DIRECTIONS
1. Rinse chicken tenders and pat dry. Sprinkle with the meat tenderizer and place in a sealable plastic bag. Pour the dressing in the bag and turn the chicken to coat thoroughly. Seal and marinate in the refrigerator for 30 minutes to 1 hour.

2. Preheat an outdoor grill for medium heat and lightly oil grate.

3. Place the chicken onto skewers and grill over medium heat for 5 to 10 minutes per side. Chicken is done when its juices run clear.
NUTRITIONAL INFO
| | |
| --- | --- |
| Calories | 270 cal |
| Total Fat | 15.7 g |
| Cholesterol | 68 mg |
| Sodium | 432 mg |
| Carbohydrates | 3 g |
| Fiber | 0 g |
| Protein | 27.5 g |