Turkey Burgers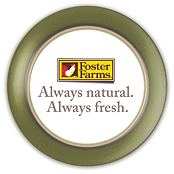 Servings: 4
Prep Time: 10 minutes
Cook Time: 20 minutes
User Rating:

Read User Reviews
Print:
3x5
,
4x6
,
full page
Copyright 2005 Allrecipes.com; by Krickett
Summary
I love to cook and I'm always trying out new recipes on my family. This was an easy and scrumptious new meal idea! My family loved it. Serve on buns with lettuce, tomatoes, and condiments.
INGREDIENTS
1 pound Foster Farms Fresh Ground Turkey 7% Fat
1 packet dry onion soup mix
1/2 cup water
1/2 teaspoon salt
1/2 teaspoon ground black pepper
DIRECTIONS
1. Preheat a grill for high heat.

2. In a large bowl, combine the ground turkey, soup mix, and water. Season with salt and pepper. Mix lightly using your hands, and form into 4 patties.

3. Lightly oil the grill grate. Grill patties 5 to 10 minutes per side, until well done.
NUTRITIONAL INFO
| | |
| --- | --- |
| Calories | 223 cal |
| Total Fat | 11.4 g |
| Cholesterol | 84 mg |
| Sodium | 1253 mg |
| Carbohydrates | 5.4 g |
| Fiber | 1.1 g |
| Protein | 23.7 g |