Teriyaki Chicken Wings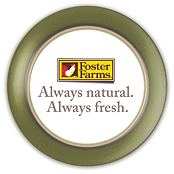 Summary
Teriyaki sauce, vinegar, and mustard combine to make a tasty topping for these chicken wings. This Asian-inspired dish will give you a meal to look forward to.
INGREDIENTS
Chicken:
1 package Foster Farms Chicken Wings
Sauce:
1/2 cup catsup
2 tablespoons vinegar
1 tablespoon molasses
1 tablespoon teriyaki sauce
1 teaspoon mustard
DIRECTIONS
1. Combine catsup, vinegar, molasses, teriyaki sauce and mustard, mix well.

2. Dip chicken wings in sauce and place close together in a shallow baking dish. Pour any remaining sauce over wings and cover loosley.

3. Bake at 400 degrees for 30 minutes. Uncover and bake 20 minutes longer, basting once or twice.