Drunk Chicken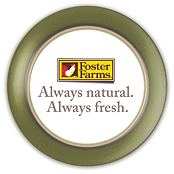 Servings: 4
Prep Time: 15 minutes
Cook Time: 120 minutes
User Rating:

Read User Reviews
Print:
3x5
,
4x6
,
full page
Copyright 2005 Allrecipes.com; by Max
Summary
Cooked over the grill with a beer can up inside - fun to make and eat!
INGREDIENTS
1 (2 to 3 pound) Foster Farms Whole Young Chicken
1 (12 fluid ounce) can beer
5 tablespoons poultry seasoning
4 dashes liquid smoke flavoring
4 bay leaves
1 long metal skewer
DIRECTIONS
1. Rinse and dry the chicken. Remove excess fat and leave skin on. Lift skin from breast and thigh areas, slide bay leaves under skin. Coat chicken with poultry seasoning.

2. Drink half the can of beer, pour liquid smoke into remaining beer. Raise tab on beer can until it is in the straight up position.

3. Insert beer can into chicken from the bottom until even with bottom of chicken. Insert skewer through the wing, ribs, tab on beer can, and out the opposite side. (this keeps the can from falling out the chicken).

4. Prepare grill: light the coals, and when they are ready, spread coals to form a ring around the outside edge of the grill.

5. Place chicken in center standing up on can to cook. Cover and cook for two hours.

6. Remove carefully from grill so as not to spill the contents of the can. Remove skewer and beer can, let chicken sit for fifteen minutes before cutting.
NUTRITIONAL INFO
| | |
| --- | --- |
| Calories | 442 cal |
| Total Fat | 23.1 g |
| Cholesterol | 140 mg |
| Sodium | 137 mg |
| Carbohydrates | 6.4 g |
| Fiber | 0.7 g |
| Protein | 44.3 g |