Hawaiian Chicken Wings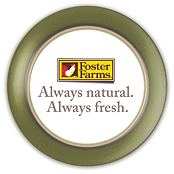 Summary
Kick off the luau using Foster Farms fresh chicken wings in this Hawaiian inspired dish.
INGREDIENTS
Chicken:
1 package (about 2 lbs.) Foster Farms Chicken Wings
1/2 cup flour
Sauce:
1 can (15 1/4 oz.) crushed pineapple
1 teaspoon cornstarch
1 package (6 oz.) diced dried fruit
3/4 cup water
1/4 cup honey
2 tablespoons soy sauce
DIRECTIONS
1. Set oven control to broil. Rinse chicken and pat dry. Cut wings at joints and discard tips.

2. Place flour in a heavy plastic bag. Coat chicken with flour and shake excess.

3. Place chicken in a rectangular pan sprayed with non-stick cooking spray. Broil with tops 4 to 6 inches from the heat, 5 to 7 minutes. Turn and broil until chicken is done, about 5 minutes longer.

4. In large skillet, mix pineapple and cornstarch. Add dried fruit, water, honey, and soy sauce. Heat to boiling, stirring constantly. Reduce heat and simmer until sauce begins to thicken, about 5 minutes. Stir in chicken wings and toss to coat. Cover and simmer 10 minutes.