Apricot Glazed Cornish Hens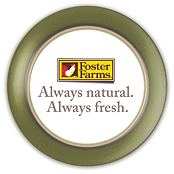 Servings: 4
Prep Time: 15 minutes
Cook Time: 50 minutes
User Rating:

Read User Reviews
Print:
3x5
,
4x6
,
full page
Foster Farms Recipe
Summary
This Cornish Hen dish uses a tasty sauce made of tarragon, apricot preserves, and liqueur. A hearty side of mashed potatoes goes great with any extra pan drippings!
INGREDIENTS
Cornish:
1 Foster Farms Cornish Game Hen Twin Pack (2 hens)
salt and pepper
Apricot Glaze:
3/4 teaspoon dry tarragon
1/4 cup apricot or apricot-pineapple preserves
1 tablespoon orange flavored liqueur or orange juice
USER NOTES & RATINGS
6/12/2006 Reviewed by Karen Coyne

This is fabulous for company, my all time favorite. I have made this for years. I thought I lost it when I moved, thank heavens for this site.
Rate and add Comments
DIRECTIONS
1. Rinse hens and pat dry with paper towel. Tie legs together and tuck wings behind back of each bird. Season outside of hens lightly with salt and pepper. Place hens in a shallow pan.

2. Combine tarragon, preserves and liqueur or juice in blender or food processor and blend until smooth.

3. Roast hens at 400 degrees for 45 to 50 minutes, brushing several times with glaze while roasting.

4. Serve with pan juices.