Super Simple Oven Barbequed Chicken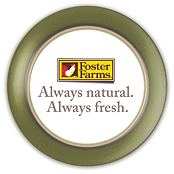 Servings: 6
Prep Time: 10 minutes
Cook Time: 90 minutes
User Rating:

Read User Reviews
Print:
3x5
,
4x6
,
full page
Copyright 2005 Allrecipes.com; by O. Romaine
Summary
Bone-in chicken breasts with spicy hickory flavoring, baked instead of grilled for an almost effortless version of barbequed chicken.
INGREDIENTS
6 Foster Farms Half Breasts, with skin
Spicy Hickory Sauce
1 tablespoon Worcestershire sauce
1 tablespoon hickory-flavored liquid smoke
2 teaspoons chili powder
2 teaspoons ground cumin
2 teaspoons garlic powder
2 teaspoons dried thyme
2 teaspoons dried oregano
salt and pepper to taste
DIRECTIONS
1. Preheat oven to 375 degrees F (190 degrees C).

2. Arrange chicken pieces in a lightly greased 9x13 inch baking dish, allowing room between pieces. Drizzle with Worcestershire sauce and liquid smoke, then sprinkle with chili powder, cumin, garlic powder, thyme, oregano and salt and pepper to taste.

3. Cover dish with aluminum foil and bake for 1 to 1 1/2 hours, or until chicken is cooked through and juices run clear.
NUTRITIONAL INFO
| | |
| --- | --- |
| Calories | 330 cal |
| Total Fat | 14.4 g |
| Cholesterol | 127 mg |
| Sodium | 145 mg |
| Carbohydrates | 2.5 g |
| Fiber | 0.9 g |
| Protein | 45.4 g |