Cornish in Green Peppercorn Brandy Sauce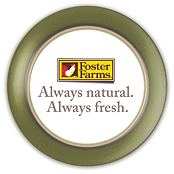 Summary
For our peppercorn fans, this Cornish hen recipe uses a delicious sauce made of peppercorn, dijon mustard, whipping cream, and brandy.
INGREDIENTS
Cornish:
1 Foster Farms Cornish Game Hen Twin Pack (2 hens)
salt and pepper
1 tablespoon cooking oil
1/4 cup chicken broth or water
Sauce:
2 tablespoons brandy
1/3 cup whipping cream
2 tablespoons dijon mustard
1 tablespoon green peppercorns, slightly chopped
DIRECTIONS
1. Rinse hens, pat dry, and cut into quarters.

2. Heat oil in large frying pan, add cornish pieces and brown on all sides, about 10 minutes. Reduce heat and add broth or water. Cover and simmer for 25 minutes. Remove cornish pieces and keep warm.

3. Add remaining ingredients to frying pan and heat sauce just until warmed through. If desired, sauce may be thickened with cornstarch or flour blended with small amount of water. Pour sauce over cornish and serve immediately.