Garlic and Wine Marinated Cornish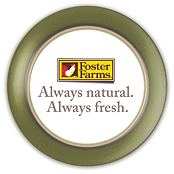 Summary
The garlic-wine marinade in this recipe is easy to make and really kicks up the flavor! A great dish for our garlic lovers.
INGREDIENTS
Cornish:
1 Foster Farms Cornish Game Hen Twin Pack (2 hens)
Marinade:
6 cloves garlic, pressed
1 1/2 cups dry white wine
1 teaspoon thyme leaves
1/2 teaspoon salt
1/4 teaspoon pepper
DIRECTIONS
1. Rinse hens, pat dry and cut into halves.

2. Combine garlic, wine, thyme, salt and pepper. Pour marinade into a plastic bag and add cornish halves. Close the bag tightly, removing air so that cornish is covered by marinade. Marinate for several hours or overnight, under refrigeration.

3. Broil cornish halves 6-inches from heat for 25 to 30 minutes, turning several times. 4. If you prefer to grill them, it will take about 35 to 40 minutes over medium coals.

5. Baste with marinade during cooking.