Curry Roasted Calypso Chicken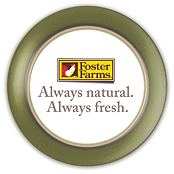 Summary
Using apple, pineapple, and orange, this recipe combines a taste of the tropics with a curry seasoning. Serve with hot rice and enjoy!
INGREDIENTS
Chicken:
1 Foster Farms Roaster
Seasonings:
1 tablespoon curry powder
1/2 teaspoon salt
1/2 teaspoon pepper
1/8 teaspoon ground red pepper
2 tablespoons vegetable oil
3/4 cup low-sodium chicken broth or water
2 teaspoons cornstarch
2 tablespoons butter or margarine
2 large tart apples
1 can (8 oz.) crushed pineapple
1/4 cup shredded coconut
1 teaspoon grated orange peel
DIRECTIONS
1. Heat oven to 350 degrees. Remove giblets. Rinse and pat dry.

2. Mix curry powder, salt, pepper, red pepper, and oil. Rub inside and outside of chicken with curry mixture.

3. Place chicken in roasting pan. Roast 60 to 90 minutes or until juices run clear. Let stand 10 minutes before carving.

4. Meanwhile, mix broth and cornstarch until well blended, and set aside.

5. Peel, core and slice apples.

6. In medium skillet, melt butter over medium-high heat. Cook apples until tender and lightly browned, stirring occasionally.

7. Stir in pineapple with juice, coconut, and broth. Heat to boiling.

8. Reduce heat to medium and simmer 5 minutes or until sauce thickens, stirring constantly.

9. Stir in orange peel. Season to taste with salt and pepper. Serve chicken with sauce.