Garlic Roasted Chicken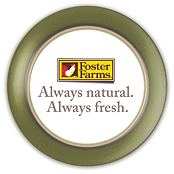 Summary
The perfect recipe for our garlic lovers out there! Using 20 cloves, this chicken roast recipe is sure to give you a garlic fix!
INGREDIENTS
Chicken:
1 Foster Farms Whole Young Chicken
Seasonings:
20 cloves garlic
2 tablespoons butter or margarine, softened
1/2 teaspoon grated lemon peel
1/4 teaspoon dry thyme leaves
1/8 teaspoon dry rosemary leaves
2 thin slices of lemon
salt and pepper
DIRECTIONS
1. Starting at breast bone, carefully work fingers under the skin of the chicken, around breast and legs.

2. Peel and press 10 garlic cloves. Combine pressed garlic with butter, lemon peel, thyme and rosemary. Spread garlic butter under skin.

3. Place remaining garlic cloves, unpeeled, and lemon slices into body cavity. Season chicken lightly with salt and pepper.

4. Roast at 375 degrees for 1 1/4 to 1 1/2 hours.

5. Remove garlic cloves from cavity, peel and serve with chicken, or blend with butter and use as a spread for thick slices of French bread.