Restaurant-Style Buffalo Chicken Wings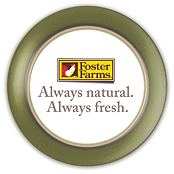 Servings: 5
Prep Time: 105 minutes
Cook Time: 15 minutes
User Rating:

Read User Reviews
Print:
3x5
,
4x6
,
full page
Copyright 2005 Allrecipes.com; by Kelly
Summary
This is the similar to the hot wings recipe served at a popular restaurant chain. If you have ever had them, you have to love them.
INGREDIENTS
10 Foster Farms Chicken Wings
oil for deep frying
1/4 cup butter
1/4 cup hot sauce
1 dash ground black pepper
1 dash garlic powder
1/2 cup all-purpose flour
1/4 teaspoon paprika
1/4 teaspoon cayenne pepper
1/4 teaspoon salt
USER NOTES & RATINGS
2/24/2007 Reviewed by Sheila

I made these wings and it was a very easy and tasty receipe for wings. Thumbs up!
1/12/2007 Reviewed by Hailee

This recipe really is like they serve in restaurants. It is similar to the Hooter's recipe that I make. I like to make them at home because I can play with the sauce. Add cayenne and less butter to make them hotter. Try adding bbq sauce to the mix!
Rate and add Comments
DIRECTIONS
1. Heat oil in a deep fryer to 375 degrees F (190 degrees C). The oil should be just enough to cover wings entirely, an inch or so deep. Combine the butter, hot sauce, pepper and garlic powder in a small saucepan over low heat. Stir together and heat until butter is melted and mixture is well blended. Remove from heat and reserve for serving. 2. In a small bowl mix together the flour, paprika, cayenne pepper and salt. Place chicken wings in a large nonporous glass dish or bowl and sprinkle flour mixture over them until they are evenly coated. Cover dish or bowl and refrigerate for 60 to 90 minutes. 3. Fry coated wings in hot oil for 10 to 15 minutes, or until parts of wings begin to turn brown. Remove from heat, place wings in serving bowl, add hot sauce mixture and stir together. Serve.
NUTRITIONAL INFO
| | |
| --- | --- |
| Calories | 364 cal |
| Total Fat | 32.4 g |
| Cholesterol | 45 mg |
| Sodium | 525 mg |
| Carbohydrates | 10.7 g |
| Fiber | 0.6 g |
| Protein | 7.9 g |