Mock Chicken Cordon Bleu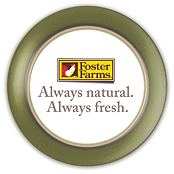 Summary
This easy Chicken Cordon Bleu recipe uses a mixture of breadcrumbs and eggs to create a crunchy topping that is then smothered with ham and cheese.
INGREDIENTS
Chicken:
1 Foster Farms Whole Cut-up Chicken
Egg Mixture:
1 egg, lightly beaten
1 tablespoon dijon mustard
1 tablespoon water
1/4 teaspoon pepper
Coating:
3/4 cup dry breadcrumbs
Top With:
1/3 cup ham or bacon, finely chopped
1/2 cup grated Swiss cheese
DIRECTIONS
1. Heat oven to 375 degrees. Rinse chicken and pat dry. Spray a rectangular baking pan with non-stick cooking spray.

2. In a medium bowl, mix egg white, mustard, water, and pepper.

3. Place breadcrumbs in a heavy plastic bag or large bowl.

4. One piece at a time, dip chicken in egg mixture then coat with breadcrumbs, shaking off excess.

5. Arrange chicken in pan. Bake, uncovered, 45 to 50 minutes or until chicken is no longer pink when cut into.

6. Sprinkle with ham and cheese. Heat 5 minutes longer or until cheese melts.