Rotisserie-Style Broiled Chicken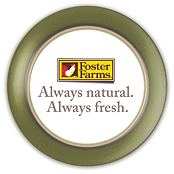 Summary
You find this recipe easy to prepare, yet loaded with flavor. Honey mustard dressing, thyme, and garlic form the dressing for this rotisserie-style chicken recipe.
INGREDIENTS
Chicken:
1 Foster Farms Whole Cut-up Chicken
Dressing:
1/2 cup honey-mustard salad dressing
1/2 teaspoon dried thyme
1 clove garlic, minced
DIRECTIONS
1. In a small bowl, whisk together salad dressing, thyme, and garlic. Set aside.

2. Preheat broiler. Lightly brush both sides of chicken with salad dressing mixture.

3. Place skin sides down, on lightly greased broiler. Broil 6 inches from heat for 8 to 12 minutes on each side, basting several times.

4. If skin starts browning too fast, lower oven rack to 8 inches. Chicken is done if it is no longer pink when cut into.

5. Remove cooked chicken pieces to warm serving platter.

6. Serve with barbecued beans, cole slaw, hot rolls with butter, and canned apricots.