Tangy Baked Lemon Chicken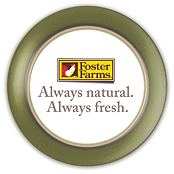 Servings: 6
Prep Time: 40 minutes
Cook Time: 50 minutes
User Rating:

Read User Reviews
Print:
3x5
,
4x6
,
full page
Foster Farms Recipe
Summary
This delicious dish incorporates a nice lemon flavoring. Additional seasonings complement the lemon well. Serve with a side salad and buttered french roll and enjoy!
INGREDIENTS
Chicken:
1 Foster Farms Whole Cut-up Chicken
1/3 cup flour
1 teaspoon salt
1/4 teaspoon poultry seasoning
1 teaspoon paprika
4 tablespoons margarine, melted
Sauce:
1/4 cup fresh lemon juice
1 green onion, chopped
1/2 teaspoon pepper
1 clove garlic, halved
1/4 teaspoon poultry seasoning
1/2 teaspoon salt
USER NOTES & RATINGS
4/1/2007 Reviewed by Sharo n Bales

Was a big hit!
12/2/2006 Reviewed by Rob the Cuban Chef

this simple lemon chicken is excellent for the palet with a good white frutiy wine. the taste is universal.
Rate and add Comments
DIRECTIONS
1. Spray a baking pan with vegetable cooking spray.

2. In a shallow dish, mix together flour, salt, paprika, and poultry seasoning. Add chicken, one piece at a time, turning to coat lightly.

3. Dip each piece of floured chicken in melted margarine, and arrange skin down, in single layer in prepared baking pan. Cover and refrigerate at least 30 minutes.

4. Bake, uncovered, in a 375 degree oven for 25 minutes.

5. In food processor or blender, lace lemon juice, green onion, pepper, garlic, poultry seasoning, salt and process or blend 30 seconds.

6. After chicken has cooked for 25 minutes, remove from oven, turn and spoon lemon sauce over each piece, then spoon pan drippings over chicken.

7. Return to oven and bake 25 minutes more.