Texas Barbecued Chicken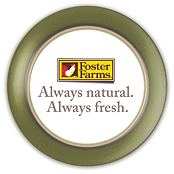 Summary
Fix this delicious barbeque chicken for dinner tonight! Sprinkle seasoning on the chicken pieces and baste occasionally while on the grill and you'll have a perfect bbq dinner! Serve with baked beans and corn on the cob.
INGREDIENTS
Chicken:
2 packages Foster Farms Best of Our Fryer
salt and pepper
chili powder
Barbecue Sauce:
1/4 cup butter
1/4 cup molasses
1 clove garlic, crushed
1/2 teaspoon paprika
2 tablespoons tarragon vinegar
3/4 cup catsup
1 tablespoon Worcestershire sauce
1 teaspoon mustard
1 teaspoon salt
1/4 teaspoon pepper
DIRECTIONS
1. Combine butter, molasses, garlic, paprika, vinegar, catsup, Worcestershire, mustard, salt and pepper in saucepan.

2. Simmer 20 minutes over low heat. Stir occasionally.

3. Rub chicken with salt, pepper and chili powder. Place skin side up, 3 inches from hot coals. Cook, about 30 minutes on each side. Baste with sauce often.