Lime Chicken Soft Tacos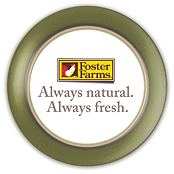 Servings: 4
Prep Time: 20 minutes
Cook Time: 30 minutes
User Rating:

Read User Reviews
Print:
3x5
,
4x6
,
full page
Copyright 2005 Allrecipes.com; by Marissa Wright
Summary
A lime chicken filling with vinegar, sugar, green onion, oregano and light seasoning makes these soft tacos citrusy-good!
INGREDIENTS
1 1/2 pounds Foster Farms Breast Tenders
1/8 cup red wine vinegar
1/2 lime, juiced
1 teaspoon white sugar
1/2 teaspoon salt
1/2 teaspoon ground black pepper
2 green onions, chopped
2 cloves garlic, minced
1 teaspoon dried oregano
10 (6 inch) flour tortillas
1 tomato, diced
1/4 cup shredded lettuce
1/4 cup shredded Monterey Jack cheese
1/4 cup salsa
DIRECTIONS
1. Saute chicken in a medium saucepan over medium high heat for about 20 minutes. Add vinegar, lime juice, sugar, salt, pepper, green onion, garlic and oregano. Simmer for an extra 10 minutes.

2. Heat an iron skillet over medium heat. Place a tortilla in the pan, warm, and turn over to heat the other side. Repeat with remaining tortillas. Serve lime chicken mixture in warm tortillas topped with tomato, lettuce, cheese and salsa.
NUTRITIONAL INFO
| | |
| --- | --- |
| calories | 502 cal |
| total fat | 10.2 g |
| cholesterol | 105 mg |
| sodium | 970 mg |
| carbohydrates | 51.1 g |
| fiber | 3.8 g |
| protein | 48.9 g |