Mahogany Chicken Wings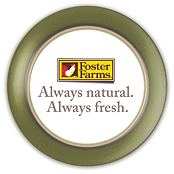 Servings: 5
Prep Time: 15 minutes
Cook Time: 50 minutes
User Rating:

Read User Reviews
Print:
3x5
,
4x6
,
full page
Copyright 2005 Allrecipes.com; by Christinet
Summary
Soy sauce, honey, molasses and spices blend to make perfect, beautiful chicken wings.
INGREDIENTS
3 pounds Foster Farms Chicken Wings, split and tips discarded Игра tekken revolution на StopGame.ru
1/2 cup soy sauce
1/2 cup honey
1/4 cup molasses
2 tablespoons chile sauce
1 teaspoon ground ginger
2 cloves garlic, finely chopped
DIRECTIONS
1. Place chicken in a shallow, medium dish. 2. In a medium bowl, mix soy sauce, honey, molasses, chile sauce, ground ginger and garlic. Pour the mixture over the chicken. Cover and refrigerate approximately 1 hour, turning occasionally. 3. Preheat oven to 375 degrees F (190 degrees C). 4. In a large baking dish, arrange chicken in a single layer. Bake in the preheated oven approximately 50 minutes, brushing with remaining soy sauce mixture often and turning once, until meat is no longer pink and juices run clear.
NUTRITIONAL INFO
| | |
| --- | --- |
| Calories | 769 cal |
| Total Fat | 43.6 g |
| Cholesterol | 210 mg |
| Sodium | 1664 mg |
| Carbohydrates | 42.3 g |
| Fiber | 0.3 g |
| Protein | 51.6 g |